Augmented reality has allowed game designers to create dinosaurs and aliens, zombies and Pokémon all around us. All of them appeared in the real world thanks to the capabilities of modern games and our smartphone cameras. Augmented reality (AR) elements in mobile apps are one of the fastest-growing trends. So, you can play on Snapchat platform in games based on augmented reality. The ability to immerse ourselves in the worlds created by developers and designers opens up entirely new possibilities for users and gives them an unprecedented experience.
In this article, we have selected ten more AR games for Android and iOS.
---
AR Dragon
If you loved Tamagotchi as a child, this game is sure to please you. Your task is to raise your dragon! Each day the pet gets older until
it turns from a cute baby to a giant fire-breathing lizard. You have to feed it, play with it, and take care of it. You can move the dragon into the real world with an AR
and play with him either on the street or in your room. What's nice – the game is free.
---
Jurassic World Alive
Want something more brutal than a cartoon dragon? Welcome to Jurassic World! A super diverse game that has an educational layer, action,
and cultivation simulation. You explore the real world around you with geolocation, collect dinosaur DNA, grow them, and breed rare hybrids in your lab. And then you train your prehistoric pets to fight against other players' dinosaurs. You can join alliances or play alone.
The game has a developed system of donations, but you can play for free. The app is of excellent graphics and animation. You can look at the grown dinosaurs at any time in the real world with AR.
---
Ingress Prime
Ingress is not just a game but a whole cult that has been gathering millions of fans worldwide for seven years. It's a kind of augmented reality encounter. Your task is to capture enemy portals. These portals are usually located at some landmark in your area. In Ingress, you have to move around a lot in the real world, walk and travel, and sometimes even go to neighboring cities. You can join one of two factions, form your own team and meet new people. Ingress is a whole gaming community.
---
Angry Birds AR: Isle of Pigs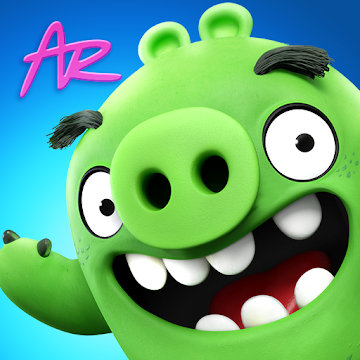 The good old Angry Birds are out on the warpath with the pigs in the real world! You'll use your surroundings as a springboard for future combat – look for good shot positions, build your fortress, and take the eggs away from the greedy green pigs! Unfortunately, the game is sometimes criticized for poor optimization on Android and not very clear terrain analysis.
---
The Walking Dead: Our World
The famous Walking Dead is on your smartphone. Oh no – right around you! Plugin the game and face the zombie apocalypse in the real world. Your task is simple – shoot the dead, rescue survivors, and build shelters. Naturally, you have to fight zombies by moving around the real world. As bonuses, you can collect character cards, upgrade your weapons, and team up with others.
---
Geocaching
Have you ever dreamed of finding a treasure? Geocaching is a vast map of geocaches and secrets! The essence of the game is that real people worldwide leave very real and tangible caches for each other and mark them on the map. And you can go to a specified point and find the treasure! True, instead of a chest with gold coins, you can dig up a roll of duct tape or a stone, but most importantly – the excitement. The only significant nuance of the game – most of the geocaches are only available with a premium-paid subscription.
---
Just A Line
It's hard to call this a game in the literal sense. It offers you to draw in real space and then record a video of what you have achieved. So, it would seem, what's the interest? Try it! Just A Line is a great way to create super creative videos. Images change in space and perspective, zoom in and out, and distort. The effect is so fantastic that it will keep you captivated for hours.
---
WorldCraft Blocks
It's almost like a Minecraft game, only in the real world. Turn on the camera, go outside and build your city: different blocks, walls, characters, furniture – anything. The elements are not remarkably realistic – they are made in classic pixel style. But, a few hours of fun in creating your cartoon locations are assured. You can hook a friend up and build a fancy house, garden, or new room together.
---
Cosmic Frontline AR
A little-known but very effective game about space battles. It is a fantastic strategy game that unfolds in your room – spaceships, black holes, galaxies, planets. The main highlight of Cosmic Frontline is the stunning 3D graphics with perfect realism and excellent optimization. You'll build spaceships and conquer planetary systems in augmented reality space battles.
---
The Machines
The Machines is an AR find for fans of Dota and other role-playing strategies. Right in front of you, a real-world RPG map unfolds with excellent optimization, 4K textures, and realistic spatial 3D sound. The projected map is embedded in your real-world environment so that your physical location can give you tactical advantages on the battlefield. The game is full of battles, friendly and multiplayer contests, and playable characters – all on your real table.