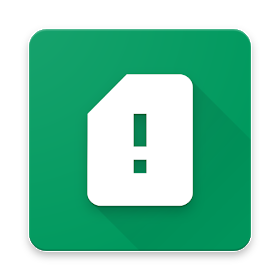 IMEI Info
is a small utility application by which you can
check the IMEI number
of your device.
This IMEI Info app supports Dual SIM phones, so you can check IMEI 1 and IMEI 2 of your Android Smartphone device.
Some times people need to check and provide their device's IMEI numbers to access some private channels or data or app from the device but people find it hard to check both IMEI numbers
So this IMEI Info app helps to check both IMEI numbers of device with easiest and quickest possible way.
Both IMEIs (IMEI 1 & IMEI 2) you can share by selecting the number and copying from this app.
Some of the cases includes online shopping sites, where for exchange offer, you need to provide IMEI number of your device which you want to exchange, so just download this app in the device you want to exchange and then check the IMEI info with ease.
Features:-
✓ Fast, easy and straight forward.
✓ Check IMEI 1 & IMEI 2 with dual SIM support.
✓ Allows to COPY and SHARE by selecting IMEI numbers.
✓ No root needed.
I am working hard to make this app work in most of the devices, but still if you find any problem please let me know at [email protected]
+ Reduced app size
+ Performance improvements
+ Now supports Android 8 (Oreo)
Screenshots Of IMEI Info (with Dual SIM Support) Apk v3.2 Premium
App Requirements:
Android – 4.0+

Version – 3.2

Size – 2.6 MB