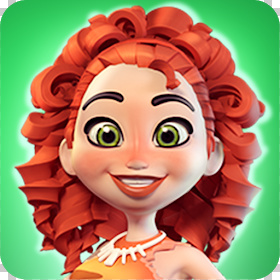 Brand new farm game for the whole family. If you're ready, it's time to enjoy some family life in the ancient world!
Building a family hearth has never been so exciting! If you are tired of building stone acres, in other town games, then you are really waiting for new adventures and emotions. Discover a new world and experience the earliest era of human married life with children in a brand new game Family Age!
Explore your new home with a friendly family! Family Age it's a new farm game free.
Help Eva and her husband Bruce to settle in the primal jungle and build farmhouse for their children! Face a marvellous world full of challenges, adventures and mysteries and make your own story! The friendly family welcomes you to share the exciting moments of everyday life with them!
You can play in our farm game offline!
Explore new lands, gather resources, planting seeds, growing crops, upgrade your farmville, craft goods, trade with merchants and shaman. Open new territories and immerse yourself into the marvellous farming game 2018! Use each family member's skills to make their life better – Daddy is capable of chopping trees and smashing rocks, Mommy is a master of cooking and gathering supplies, cheerful kids are best for treasure hunting and helping their parents! Instead scarecrow we got totems, instead of appletrees growing wild plants – all of this our marvellous farm game. But don't forget that farming is the key mechanics of the game. If you don't watch to the barnyard, they will eat all your plants. This word is though, your farmers need to prepare food so they have strength to work and improve the farmhouse.
In the story the main character's run away from the island, where volcanic eruption began. In the chaos, farmers lose their tribe and swim wherever eyes go around. They came to an unidentified island, where they will build a new farm. However, they aren't the only people on the island. And, no, it's not other farmers who actually built their farmville here. You will meet with a mysterious shaman, so be ready for a amazing adventure.
In our farmer game you will not to sit on the same place. In search for missing tribe you will travel to explore new islands.
Game powered by Defold game engine and is the most advanced farm of 2018!
That your farm to thrive, you will need new resources. You will meet new heroes that will tell where to find your tribe. Maybe you will find other farmers who share valuable resources or knowledge with you.
Be ready to:
• expand territory and build your village;
• growing plants, smash rocks, and harvest crops;
• discover new technologies to make your farming more pumped;
• upgrade your farmhouse and other farmville buildings;
• produce goods as stone axes, leathers, pottery, clothes and other helpful stuff;
• learn the ancient way of cooking – plenty of different dishes require various ingredients;
• protect your family and watch your hearth in a brand new farm game.
We wanted that your favorite farm game you can play anywhere, even when you stands on the summit of mount Everest! Therefore, Family Age is a farm game offline and will work without an internet connection! In addition, Family Age it's a farm game free, so you are not necessarily to spend real money to play it.
Build your life among the ancient world! Be brave and build a better farming!
It's new farming game 2018, so we are very important to your feedback. Your suggestions you can drop to familyage[at]gmail.com
If you like our farmer game, then don't forget subscribe to our social networks to keep abreast of latest news about our farmer game!
facebook.com/familyageclub
youtube.com/channel/UCxm8jnD1rYrT4271Qr3_44w
instagram.com/familyage
vk.com/familyagegame
And remember, Family Age it's farm game free and always will be free!
WHAT'S NEW
Travels and decor! New update brings not only bug fixing and general improvements, but also two new maps and long-awaiting decorations.
– added 2 new maps full of mysteries and treasures
– new decor will make your farm even more beautiful
– multi-purchase function – easy way to place beds and decorations in big numbers
– abolishment with energy restrictions – cut big trees whenever you whant
– levelcap raised up to 33 level
Screenshots Of Family Age beautiful farm adventures sim Apk v1.0510
Game Requirements:
Android – 4.4+

Version – 1.0510

Size – 80 MB

Notes: to get all the mod features listed, you need to have Lucky Patcher on your phone, and then proceed to make the hacked in-app purchases.